April and May were particularly busy months for me. It's a little later than planned, but here is my income and profit report for April.
---
This is a recurring monthly post to track my goal of earning at least £4,000 profit from my Side Hustle ventures this year.
My goal breaks down across the months and weeks of the year as follows:
£4,000 per year or
£333.33 per month or
£76.92 per week
This means that my target profit for each month would ideally be in the region of £333.33.
So far this year I haven't had a month where I've hit this target profit, so if I have a chance of achieving my goal I need to get some serious money coming in!
Let's see how I got on…

INCOME REPORT
Here's how my income is panning out:
| Month | Income | Running Total |
| --- | --- | --- |
| January | £377.45 | £377.45 |
| February | £156.62 | £534.07 |
| March | £120.29 | £654.36 |
| April | £305.67 | £960.03 |
| May | | |
| June | | |
| July | | |
| August | | |
| September | | |
| October | | |
| November | | |
| December | | |
It's nice to be back up in the £300+ region after the previous two months generating less than £200 income each. At £305.67 I'm clearly not going to hit my profit target of £333 for the month though.
During April I was still working three days a week in my IT contract. Time that I had available to work on my side hustles was spent solely on publishing, which means there was no top-up from eBay, matched betting or surveys to help booster the kitty.
My running total income for the year is now sitting at £960.03, I've not quite managed to hit £1K, but hopefully next month!
Here's a break-down of where the income came from in April: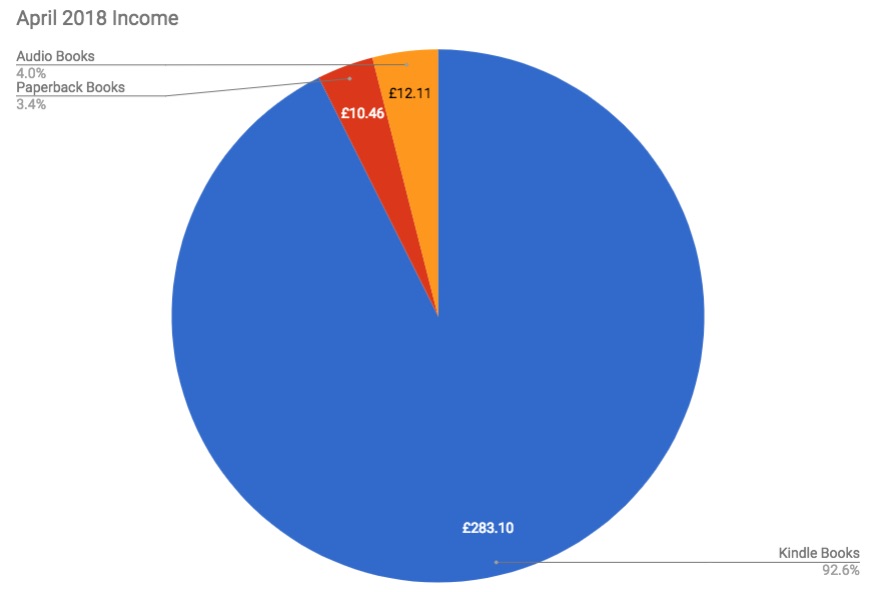 EXPENSE REPORT
Here's how my Side Hustle expenses panned out for April:
| Month | Expenses | Running Total Expenses |
| --- | --- | --- |
| January | £145.20 | £145.20 |
| February | £18.62 | £163.82 |
| March | £17.84 | £181.66 |
| April | £93.05 | £274.71 |
| May | | |
| June | | |
| July | | |
| August | | |
| September | | |
| October | | |
| November | | |
| December | | |
My expenses were higher this month compared to the last couple of months because I started promoting my kindle books again. This significantly helps to boost book sales, hopefully increasing profits. At £93.05 it's the second highest expenses month of the year so far. This figure is made up of 2 promotions and some marketing costs for advertising on Amazon.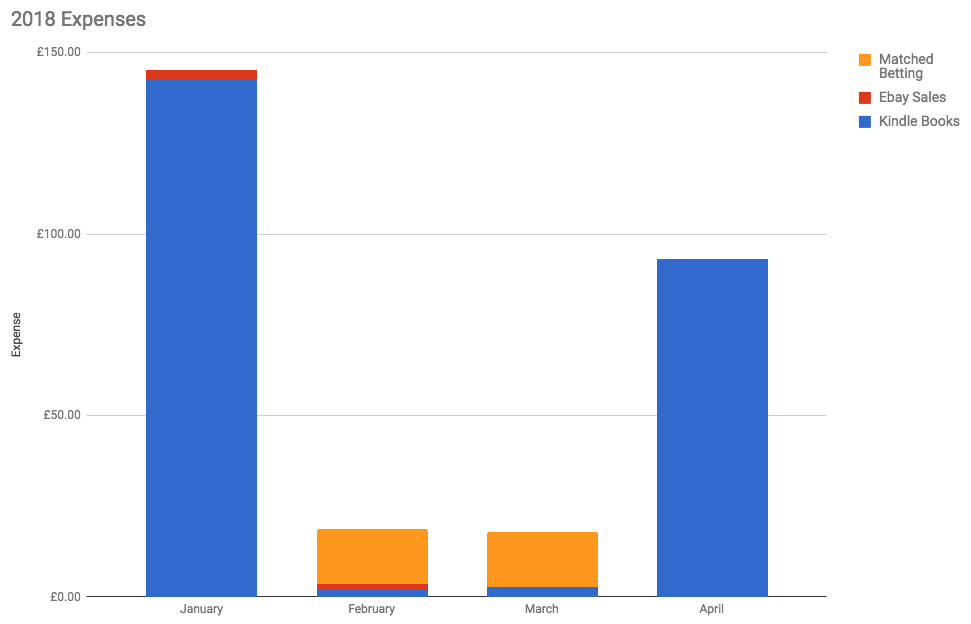 PROFIT PROGRESS
Here's how my profit is looking now that April is taken into account.
Month
Target Profit
Actual Profit
Difference
Running Total Profit
Running Total
Over / Under Target
January
£333.33
£232.25
-£101.08
£232.25
-£101.08
February
£333.33
£138.00
-£195.33
£370.25
-£296.41
March
£333.33
£102.45
-£230.88
£472.70
-£527.29
April
£333.33
£212.62
-£120.71
£685.32
-£648.00
May
£333.33
June
£333.33
July
£333.33
August
£333.33
September
£333.33
October
£333.33
November
£333.33
December
£333.33
A profit of £212.62 for April is an improvement on March's profit, but obviously still not hitting my target of £333.33. It would just be nice to hit the £300 point at least! I'm not knocking it though, £200+ is a nice little extra considering this was semi-passive income. All I had to do to make this money in April was to run a couple of marketing promotions which took me an hour or two to set-up. Happy Days.

WHAT ACTIONS WORKED/DIDN'T WORK FROM LAST MONTH'S PLAN
Here's a review of how I got on with the plans I made for April:
Focus my time and attention on core money making activities:

Online publishing
Growing Inspiring Life Design site and associated social media
I stopped spending time on matched betting and eBay. I did spend small amounts of time on Prolific (affiliate link) to complete some surveys, but only occasionally - the money for these surveys will actually be realised in May because I didn't reach the threshold for paying out during April
I continued to grow my social media accounts for Inspiring Life Design and have been seeing some success
Get stuck into the creation process for at least one new book to publish
During April I spent time doing research into new niches that I might want to publish book titles under
Run and track success of promotions booked for April
Big tick for this one, I ran 2 promotions during April
Plan and book promotions for May
I did this too, with 2 promos booked for May
Do at least 4 more lessons of publishing course
I didn't manage to achieve this. I did do a little more of the course, but not 4 more lessons
Publish 4 posts during April
I published 3 posts during April
Grow Instagram following from 782 to 900+ followers
Instagram: increased from 782 to 897 followers. So close on this one!
Twitter: increased from 317 to 414 followers
I have not been seeing success on Facebook and YouTube yet. I think this is understandable for YouTube because I am not posting consistently. However it would be nice to see a bit more Facebook engagement. If you use either of these platforms and feel like helping a girl out, please consider subscribing!
– Facebook Page: Stayed at 13 subscribers
– YouTube: Stayed at 2 subscribers

Get at least 50% of the way through Turn Your Dreams Into Money (affiliate link) course (I'm currently 31% through)
Sadly I failed completely at this and didn't make any further progress. It's still on my list to do, just when I have a bit more time on my hands
Things I will try this month to help improve future months' income and profit
I'm not going to list any things here in this post because it's already June as I write this, so there's no point settng goals for May!


So that's my income and profit for April. I'd love to hear from you in the comments below on how you're getting on with any side income ventures.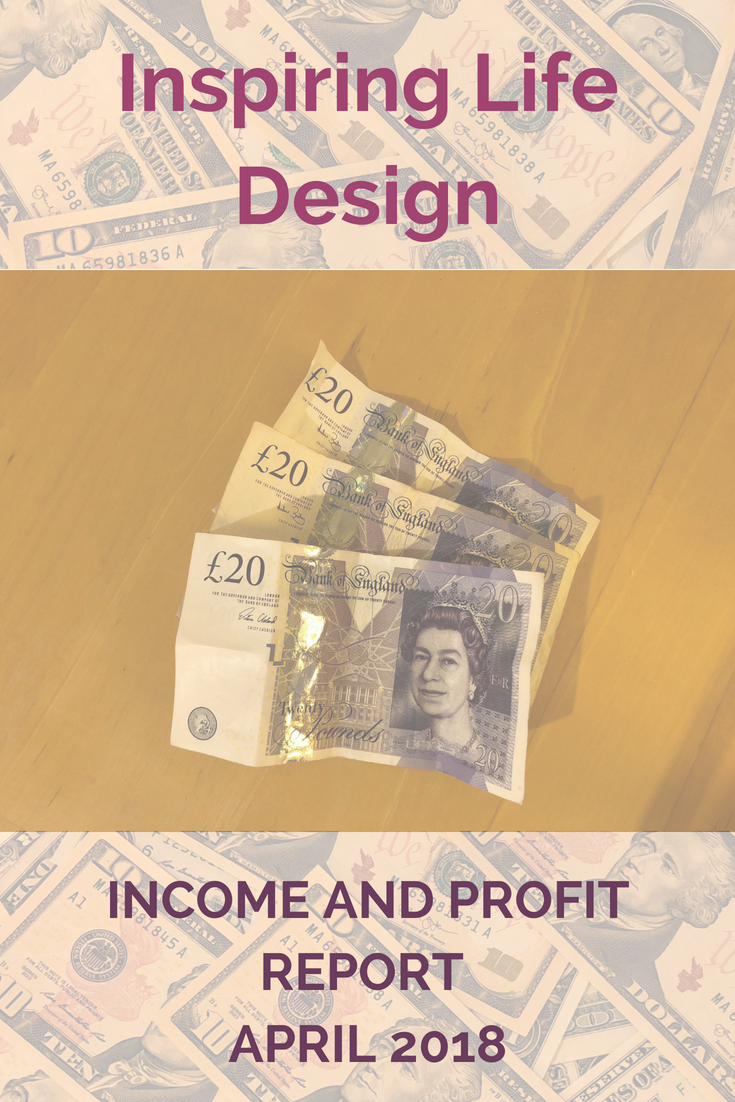 Join the Life Designer list!
If you'd like to be notified each time I publish a new post, why not become a Life Designer (it's completely free!) and you get all this:
Updates on how to make money
Invite to private Facebook Group
Advance access to Challenges, Coaching & Courses
Notifications whenever a new post comes out
Join the Life Designer mailing list here.

---
Previous & Next Posts


My last post was about the life changes I made after seeing Tony Robbins.
  In my next post you can read about how I got on with my income and profit in May.
---

---
I sometimes use affiliate links in my posts. This means that if you buy a service or product using my link I receive a small commission at no extra expense to you. You can navigate independently to the sites mentioned if you prefer not to use my affiliate links. I only link to products or services which I personally use & recommend.