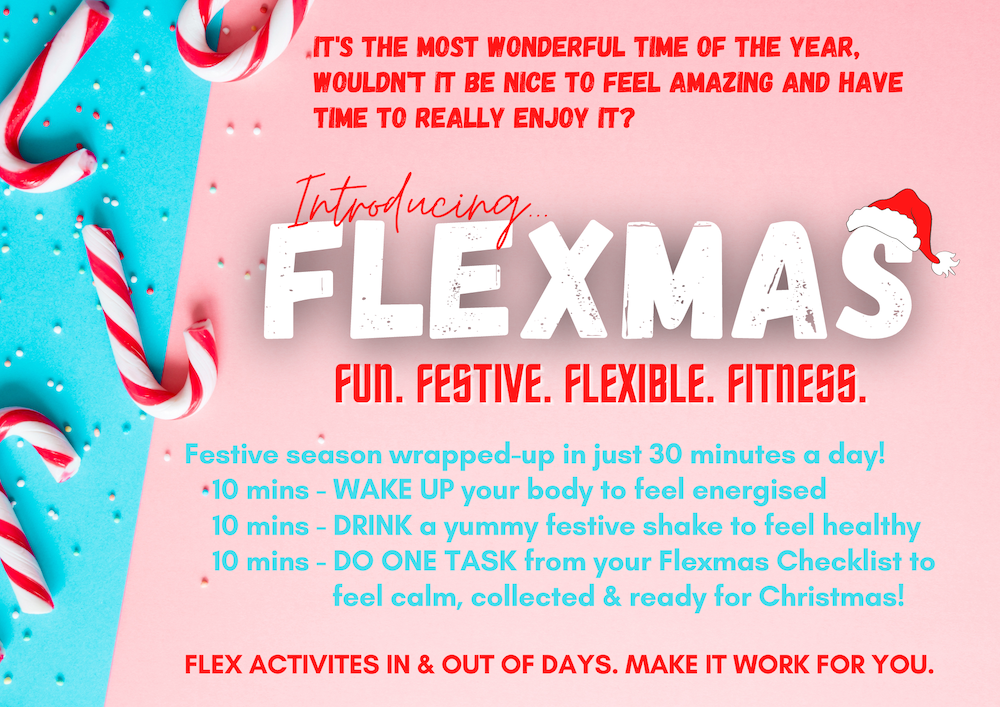 Join Corinna in the Sunshine Studio for FLEXMAS 2022!
The Flexmas plan is designed to work around your hectic schedule giving you peace of mind that you are doing the best for yourself this festive season.

Everything you need to get started immediately is included in the Flexmas plan bundle, all you need is a device to stream on.

When you join Corinna for Flexmas, it's not just for the Christmas season, it's for a whole year of health, wellness and coaching by Corinna, including access to all of her challenges. Which means you're not just treating yourself for December, you're setting yourself up for an incredible 2023!

Prices vary depending on the starter bundle package you choose (Corinna will personally find you the right bundle and best deal for your needs). Right now bundles start from £140 / $160 USD / $185 CAD / €185 EUR for a year's membership. A total solution health and fitness plan for a little over £10 a month from the comfort of your own home is a bargain not to be missed and these discounted prices are set to go up soon, so don't miss out on the best deal…
About The Sunshine Studio
Welcome to a secret hideaway of like-minded ladies, practicing self care together to TAKE BACK CONTROL of their bodies, fitness and happiness.
A fun, supportive, safe space online where busy women can feel comfortable getting fit from home, taking 30 mins a day FOR THEMSELVES.


Flexmas is open for you to join right now.
Fill out this quick form today to enquire about your year's access to the "Netflix of fitness" as well as heaps of other great benefits!
Corinna will be in touch within 24 hours or you can email her at corinna@inspiringlifedesign.com