It's time for another Income and Profit report! Let's find out how I got on in August 2018.
---
The start of August saw the end of our Disneyland Paris holiday. We crammed plenty of other fun things in though, including trips to the Warner Brothers Harry Potter Studio Tour, Foxton Locks and Drayton Manor Theme Park. I completed a Reiki 1st degree course with my sister, looked after my 7 year old niece twice, and enjoyed a poker and pizza night at my sister's.
Here's a photo of me in the Plaza Gardens restaurant at Disneyland Paris on our last day.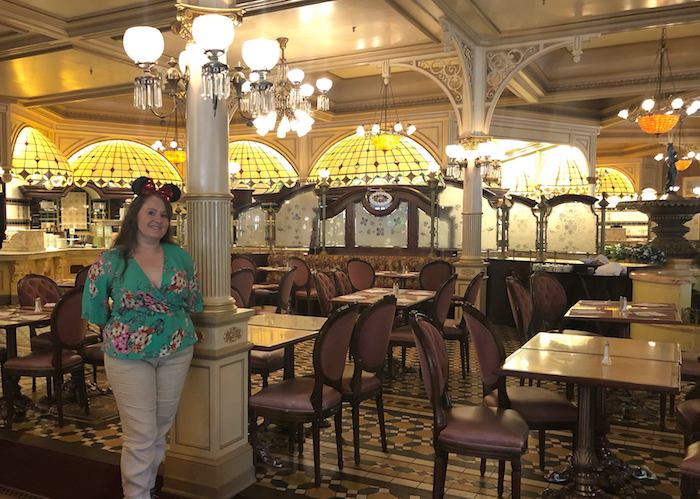 This is a recurring monthly post to track my goal of earning at least £4,000 profit from my Income Hustle ventures this year.
My goal breaks down across the months and weeks of the year as follows:
£4,000 per year or
£333.33 per month or
£76.92 per week
This means that my target profit for each month would ideally be in the region of £333.33.
July's profit of £189.94 was a bit of a disappointment, after I'd managed £253.06 profit in June. I feel like I've been hustling hard, but not necessarily seeing the fruits of my labour. Will August be the month to finally hit my monthly profit target of £333.33? Read more of my August income and profit report to find out…
---

---
INCOME REPORT
Here's how my income is doing:
| Month | Income | Running Total |
| --- | --- | --- |
| January | £377.45 | £377.45 |
| February | £156.62 | £534.07 |
| March | £120.29 | £654.36 |
| April | £305.67 | £960.03 |
| May | £217.61 | £1,099.51 |
| June | £281.89 | £1,381.40 |
| July | £311.20 | £1,770.73 |
| August | £496.84 | £2,267.57 |
| September | | |
| October | | |
| November | | |
| December | | |
Yee-haa! My highest income month so far this year! I received £496.84 income, just short of a sweet £500, but I'm not complaining. In August I brought in £185.64 more than I did in July (which was £311.20). That increase in income is more than the total income I made in February or March!! Happy days.
With an income that's £163.51 higher than my target monthly profit of £333.33, could this be the first month I hit my goal? It all hinges on August's expenses and whether they're less than £163.51…
Here's a break-down of where my income came from in August: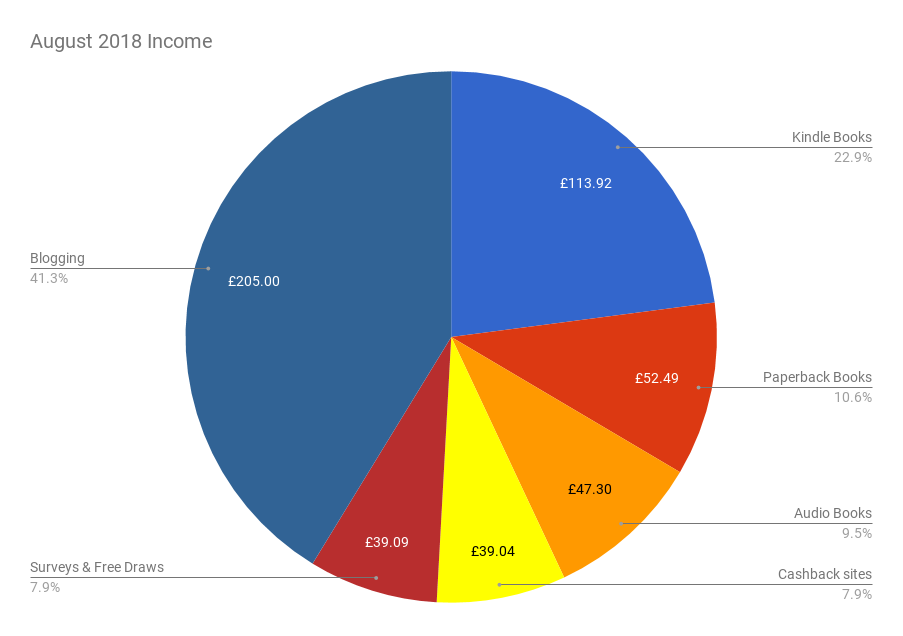 There's a new entrant on my income report this month! Yes, I've finally made my first money from blogging. Not only did I make money from blogging, it was my highest earner for August! I can't begin to tell you how exciting this is for me.
For months I've wondered whether making money from my website is a viable option for me, and now I know that it is entirely possible. I just needed the know how! I have to say that this has only been possible thanks to the great tips and lessons I've learned from Emma Drew's training materials. I've been working through her Turn Your Dreams Into Money (affiliate link) course, as well as her How To Smash Affiliate Marketing (affiliate link) course, both of which I would highly recommend.
August's strong income month was boosted by the survey site I use (affiliate link) returning just under £40, as well as cashback, also earning me just under £40. I received cashback from Quidco (affiliate link) and TopCashback (affiliate link) as well as the annual payout from my Barclaycard Cashback credit card. This is a no fee credit card which allows me to accumulate cashback on all my spending. Having just had a quick look at the Barclaycard website I don't think they offer this card to new customers any more.
If you've not yet started using cashback sites, sign-up using my my referral link with Quidco (affiliate link) and as a thank-you they'll give you £10 (I will receive £10 too - so thanks!)
My audiobooks income was better than usual during August due to the fact that I received a bounty payout. These payouts are worth $50 a time, and they happen when a new user to Audible signs-up and selects my book as their free welcome book. This is only the second bounty payment I've received, and it's SO lovely to get them!
EXPENSE REPORT
Here's how my Side Hustle expenses panned out for August:
| Month | Expenses | Running Total Expenses |
| --- | --- | --- |
| January | £145.20 | £145.20 |
| February | £18.62 | £163.82 |
| March | £17.84 | £181.66 |
| April | £93.05 | £274.71 |
| May | £54.86 | £329.57 |
| June | £28.83 | £358.40 |
| July | £121.26 | £479.66 |
| August | £156.39 | £636.05 |
| September | | |
| October | | |
| November | | |
| December | | |
This is looking very promising! My expenses for August were £156.39, bringing my total annual expenses to £636.05. Most of these expenses were for book promotions, and blogging expenses for the subscription service I have been using.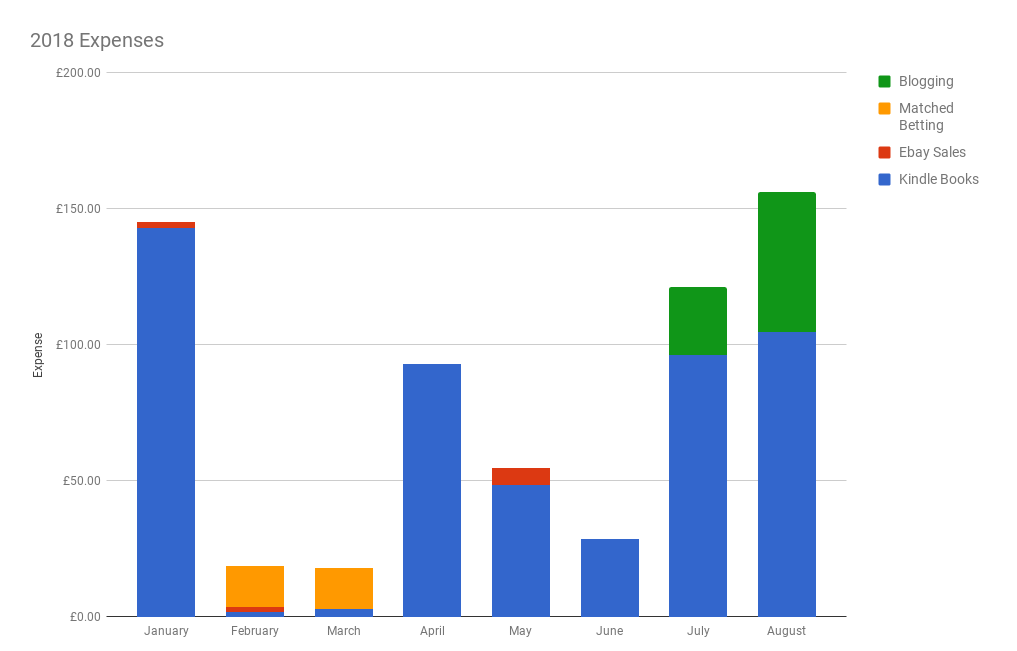 PROFIT PROGRESS
Here's how my profit is looking at the end of August:
Month
Target Profit
Actual Profit
Difference
Running Total Profit
Running Total
Over / Under Target
January
£333.33
£232.25
-£101.08
£232.25
-£101.08
February
£333.33
£138.00
-£195.33
£370.25
-£296.41
March
£333.33
£102.45
-£230.88
£472.70
-£527.29
April
£333.33
£212.62
-£120.71
£685.32
-£648.00
May
£333.33
£162.75
-£170.58
£848.07
-£818.58
June
£333.33
£253.06
-£80.27
£1,101.13
-£898.85
July
£333.33
£189.94
-£143.39
£1,291.07
-£1,042.24
August
£333.33
£340.45
+£7.12
£1,631.52
-£1,035.12
September
£333.33
October
£333.33
November
£333.33
December
£333.33
Target hit for 1st time this year!
I apologise for the over-the-top celebration, but this is a huge moment for me! I've finally had a month where my profit is more than my monthly target amount of £333.33. At £340.45 I've smashed it with a whole £7.12 to spare!
I'm a great believer in celebrating small wins, even if they're not the end result I'm ultimately looking for. At the start of the year I set myself a goal of making £4,000 profit and I'm currently £1,035.12 behind where I need to be at this point in the year. So I still have a long way to go if I'm to achieve my 2018 goal. However, just for now I'm delighted that I've had my first month of making over £333.
My overall profit for the year is now £1,631.52 which leaves me with £2,368.48 profit still to make this year and now just 4 months left. That means I need to make over £592 profit every month until the end of the year. Yikes! Any ideas for things I can do to ramp up my profit making potential quickly, then please let me know!
---

---
What Actions Worked/Didn't Work From Last Month's Plan
In last month's income and profit report I listed things I would try this month in order to improve my profit.
Here's a run down of how I got on with them:
Book Publishing
Purchase book promotions to run during August

DONE I ran a few successful promotions in August

Conclude the contract with my ghost writer for my latest book

DONE I received the final manuscript from my ghost writer and concluded my contract with them on Upwork

Recruit an illustrator to create the images for my latest book

DONE The images are being worked on during September

Complete the editing of my latest book (or at least as much of the editing I can do before I have the final images from the illustrator)

NOT DONE I didn't make any progress on the editing during August, my attention was focussed on communicating with the ghost writer and checking the manuscript instead
Blogging
Carry out any sponsored blog post opportunities which I receive during August

DONE This is where my uplift in income came from during August

Update inspiringlifedesign.com so that it finally has a navigation, and sort out the menu options so that it's easy for readers to find what they're looking for

DONE It's so nice to have a working menu navigation for the site! I am happy with the menu options I have set-up, although I do still have some work to do on a few menu pages

Create a Learn With Me page, so that I can offer one-to-one mentoring and training for any prospective clients

DONE This is now present in my new menu options

Create a Media Kit and add this to the website, so that it's easy for companies looking to work with me to find out more information

DONE I actually really enjoyed creating my Media Kit (although I still find it tricky knowing what to charge for my services!)

Create a Rate Card which will form part of my Media Kit, but which will only be sent out in response to enquiries (rather than being available online)

DONE As above, I got this done at the same time as the Media Kit

Grow my Life Designers email list from 8 to 9 subscribers

DONE I'm delighted that I managed to get another email subscriber! I haven't found the time yet to create any sign-up freebies, so to get people joining my email list from simply visiting my site is wonderful

Increase the domain authority for inspiringlifedesign.com from 12 to 13

DONE Increasing the domain authority (DA) for my site is actually proving harder than I had realised. Nevertheless I did manage to increase my DA to 13 during August
Courses
Prepare for and launch the first week of my PublishIn8 program.

DONE I created a presentation to work through on our launch call. We had a great session introducing ourselves to each other, and I shared in-depth information on how to really research and choose a niche for publishing a book
Social Media
Things I Will Try This Month To Help Improve Future Months' Income And Profit
Book Publishing
Purchase book promotions to run during September
Conclude the contract with my illustrator, once they have provided all the images for my latest book
Purchase stock images for my latest book (these are stock images I need to buy that are in addition to the illustrations I've had done)
Complete the editing of my latest book so that it's ready for formatting
Migrate my existing paperback books to KDP since Createspace (where I currently have them listed) is closing
Blogging
Carry out any sponsored blog post opportunities which I receive during September
Publish at least 4 new blog posts
Grow my Life Designers email list from 9 to 10 subscribers
Increase the domain authority for inspiringlifedesign.com from 13 to 14
Courses
Book the remaining 7 weeks of training calls for the participants of the PublishIn8 program. I need to get these into our calendars and with Zoom conference call details booked. This is a trial run so I can test that the program is feasible for people to work through in the timescale (8 weeks). The program is not open to purchase yet, but you can register your interest by joining the waitlist if you'd like the opportunity to do a hands-on, real-time training course (delivered via live video sessions with me) which will see you publish your first online book in just 8 weeks!
Social Media

So that wraps up an awesome August! As always, if you have any thoughts on my progress, sugggestions for new things I can try to make money, or questions on anything in this post, then please leave a comment below.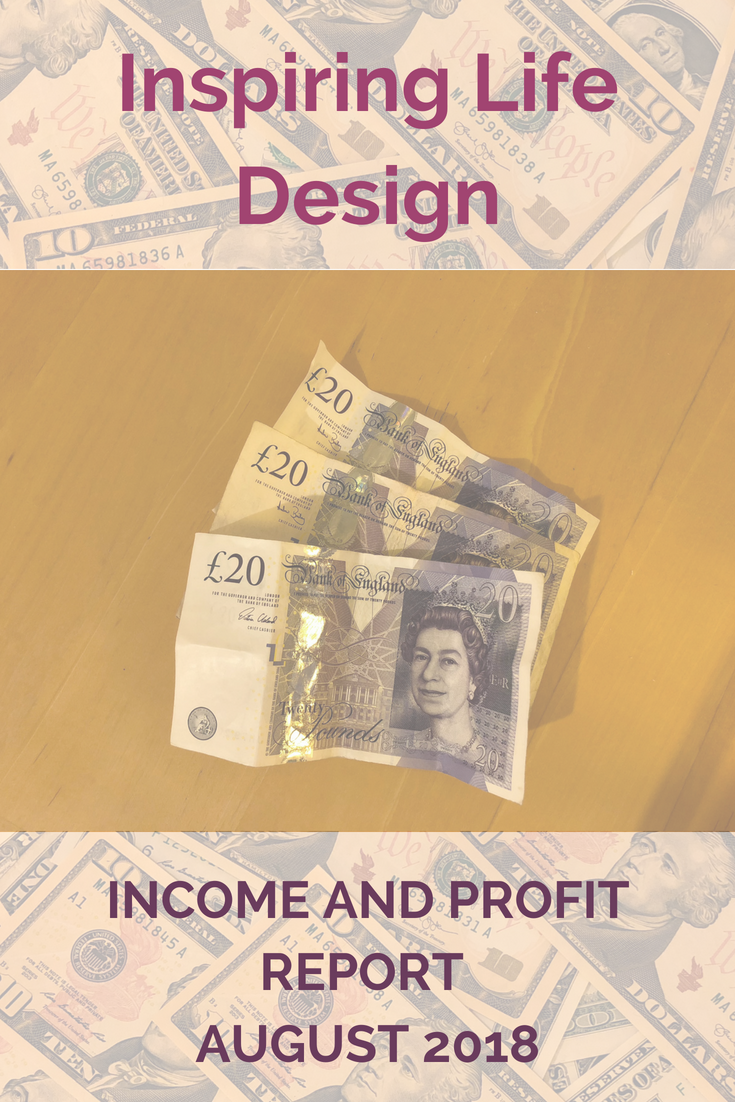 Join the Life Designer list!
If you'd like to be notified each time I publish a new post, why not become a Life Designer (it's completely free!) and you get all this:
Updates on how to make money
Invite to private Facebook Group
Advance access to Challenges, Coaching & Courses
Notifications whenever a new post comes out
Join the Life Designer mailing list here.
---
Previous & Next Posts


My last post talked about what a great free day out Coventry Godiva Festival is.
  In my next post I share My Autumn Bucket List.

---

I sometimes use affiliate links in my posts. This means that if you buy a service or product using my link I receive a small commission at no extra expense to you. You can navigate independently to the sites mentioned if you prefer not to use my affiliate links. I only link to products or services which I personally use & recommend.